sing like no-one is listening (especially when they are)
Some of our members are born to perform and live for the chance to get before an audience whereas others approach the experience with a bit more trepidation.
However nothing can beat the rush of standing on stage, feeling the beat, hearing the chords and giving it your absolute all as you raise your voice in harmony.
Our performances give people that sometimes feel quite ordinary the chance to be extraordinary.
Soul Song perform at a number of community events throughout the year as well as putting on our own annual concert in November and sometimes a mid-year showcase.
Performances are always optional but even some of our most nervous members have discovered that the feeling you get when being on stage is infectious and now you can't keep them away.
Our upcoming performance list is updated regularly so be sure to check in and find out where you can see us perform. You can also follow us on Facebook for our up to date news and performances.


---
I'VE GOT THE MUSC IN ME!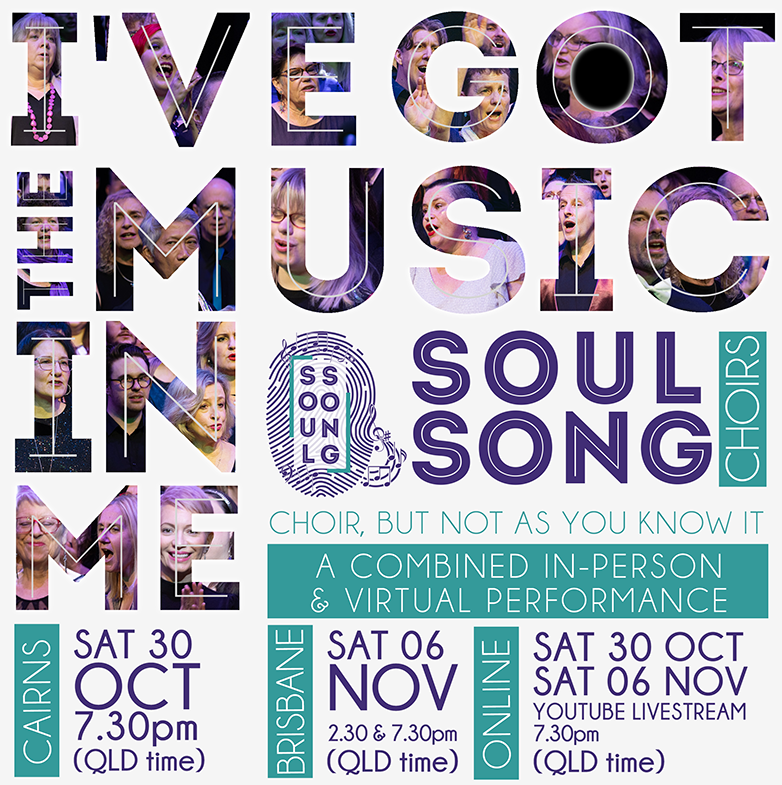 After 18 months of interrupted singing, rehearsals in masks and cancelled performances, Soul Song is ready to SING! And we have a line up of disco, soul, pop and gospel tunes that will make you grin, move you to tears or get you up on your feet for a dance (COVID permitting!!). I've Got The Music In Me is the culmination of two years' work, rehearsing on-line and in person and brings performers from Cairns and Brisbane on stage together with singers from all over Australia and beyond on screen.
Our playlist has something for everyone, with artists including Guy Sebastian, Michael Buble, Panic at the Disco, Ed Sheeran. John Legend. Pentatonix, Phil Collins and Take That. Can't join us in person? Our evening show will be live streamed and will feature the same blend of live and virtual performances that you'll experience in the theatre.

CAIRNS TICKETS
Saturday 30 October, 7,30pm at CPAC
Adults $32.15
Concessions/children $22.70
Tickets are available from Ticketlink:
https://www.ticketlink.com.au/ticketlinkEvents/popular-music/ive-got-the-music-in-me
BRISBANE TICKETS
Saturday 6 November, 2.30pm and 7.30pm at the Empress Theatre, Arcana, Moorooka

2.30pm show:

Adults $25
Concession $15
Children 3-18 $10

7.30pm

Adults $30
Concession $25
Children 2-18 $20
Tickets are available here:
https://www.trybooking.com/BURBD
LIVESTREAM TICKETS
Saturday 30 October AND Saturday 7 November, both 7.30pm QLD time
Tickets available here:
https://www.soulsongchoirs.com.au/musicinme
---

Check out one of our songs from the last time we were on stage, in 2019!