Soul Song Cairns is going on the road!

This is your chance to listen to, and even sing with, Cairns' most passionate and energetic pop choir.

Our Cairns crew is heading down to the Cassowary Coast to spread some musical joy with a weekend full of pop up performances, a workshop and a formal concert, with special guest appearance by Cairns vocal ensemble, the Secret Men

Check out the itinerary below to find out where you can see and hear us and where and how you can join in!

---
SINGING SESH - IT'S SINGING. IN A PUB
FRIDAY 3 JUNE @ THE CROWN HOTEL, INNISFAIL. 7.30-9.30PM
$20 standard, $15 concessions and students 16+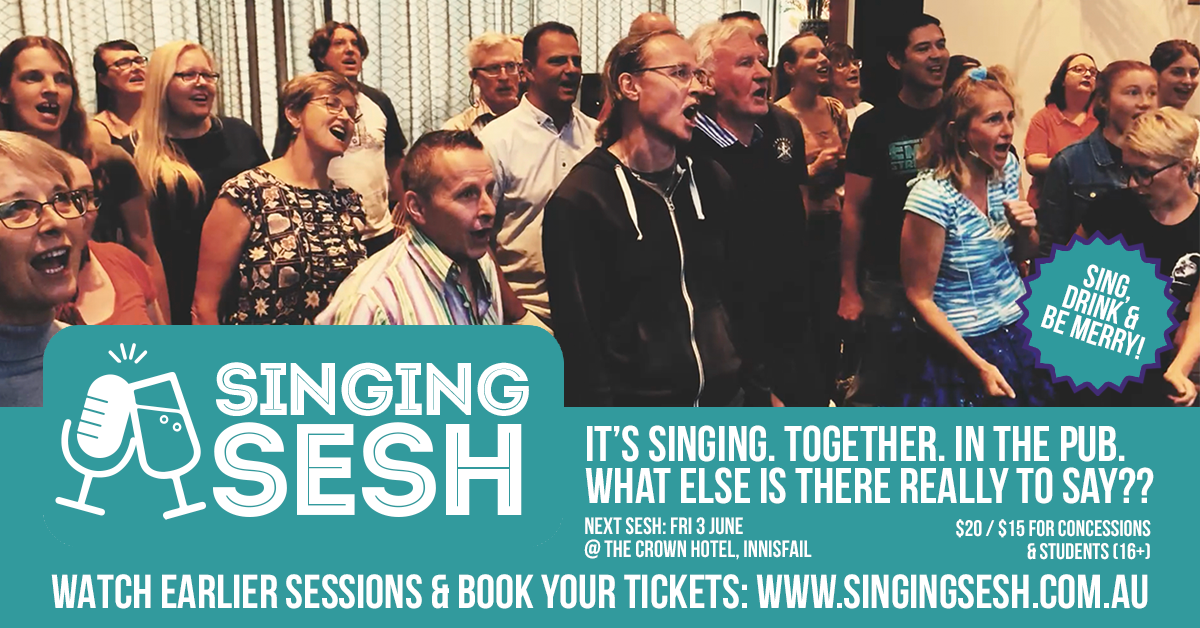 ---
POP UP PERFORMANCE - INNISFAIL
SAT 4 JUNE 10AM
Details TBC
---
POP/SOUL/GOSPEL WORKSHOP - MISSION BEACH
Mission Arts, 12.30-3pm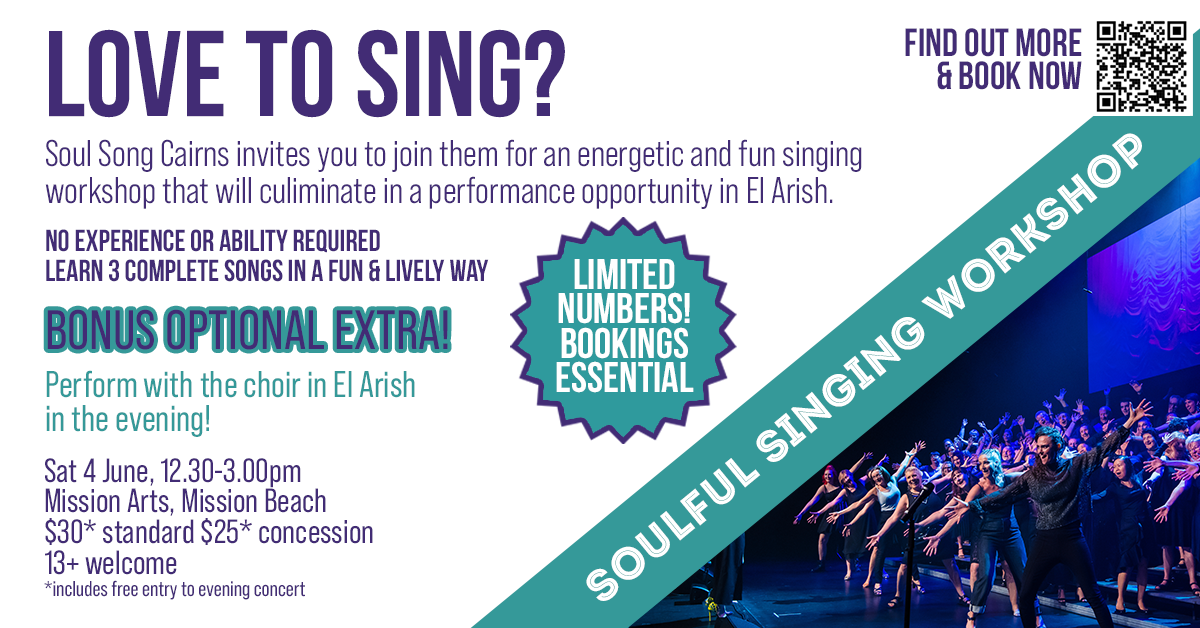 Join the Soul Song crew for an informal workshop where you'll learn three complete songs and even perform them at the end!!

No experience or ability is required and anyone over 13 is welcome. The songs will be easy pop, soul and gospel arrangements and we guarantee that you'll leave feeling energised and uplifted.

We will provide any lyrics or other resources - you just need to bring a sense of adventure, some water (or tea/coffee), a pencil or pen and reading glasses (if you're distinguished enough to need them!).

WORKSHOP BONUS - AND, as if that's not enough already, anyone who attends the afternoon workshop is invited to perform the three songs with us on the evening at El Arish Hall - your workshop ticket includes free entry to perform and to watch Soul Song and special guest stars Sound Avenue in a fantastic evening of soulful music.

$30 / $25 concession (both ticket types include free entry for the evening show)
Pre bookings are essential as we have limited space available



---
SOUL SONG AND SECRET MEN IN CONCERT
SAT 4 JUNE, 7PM
El Arish
Head in for a drink from 6.30pm, with performances starting at 7pm.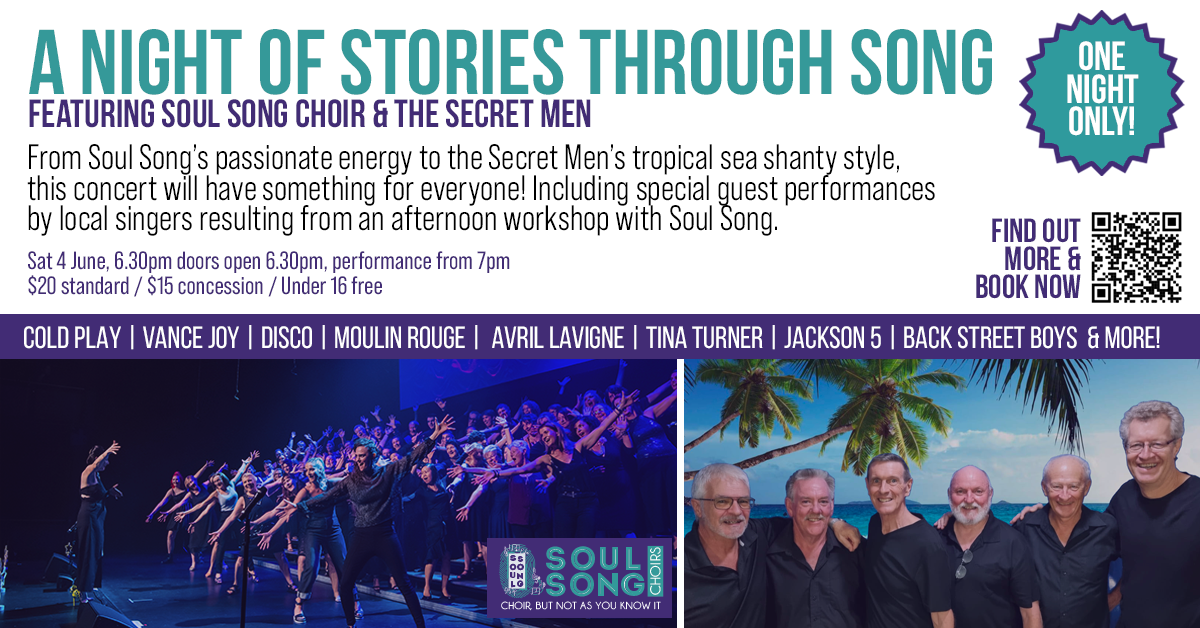 Settle in for a stunning night of musical and stories with Soul Song Choir and the Secret Men.

Soul Song is a lively and passionate community choir, singing pop, soul and gospel repertoire that's designed to inspire and energise their audiences. Check out some of their music here.

The Secret Men comprises of members or ex members of the choir who have banded together to sing original music in fabulous male harmony. Their music has a unique style, described as Tropical Queensland Sea Shanty and you're bound to fall in love with them immediately!

The event has free seating so you can buy tickets separately and still sit together. There is a bar on site.

$20 / $15 concession
Under 16s and workshop participants free

NB: workshop participation includes free entry to the evening concert but a ticket will still be required. So if you are registering for the workshop AND you plan on attending the concert, please be sure to select the free Workshop Participant ticket. Any guests accompanying you that did not attend the workshop will need their own concert ticket.

---
SOUL SONG AT PARONELLA PARK
SUN 5 JUNE, 11- 1pm
Free performance for anyone with Paronella Park admission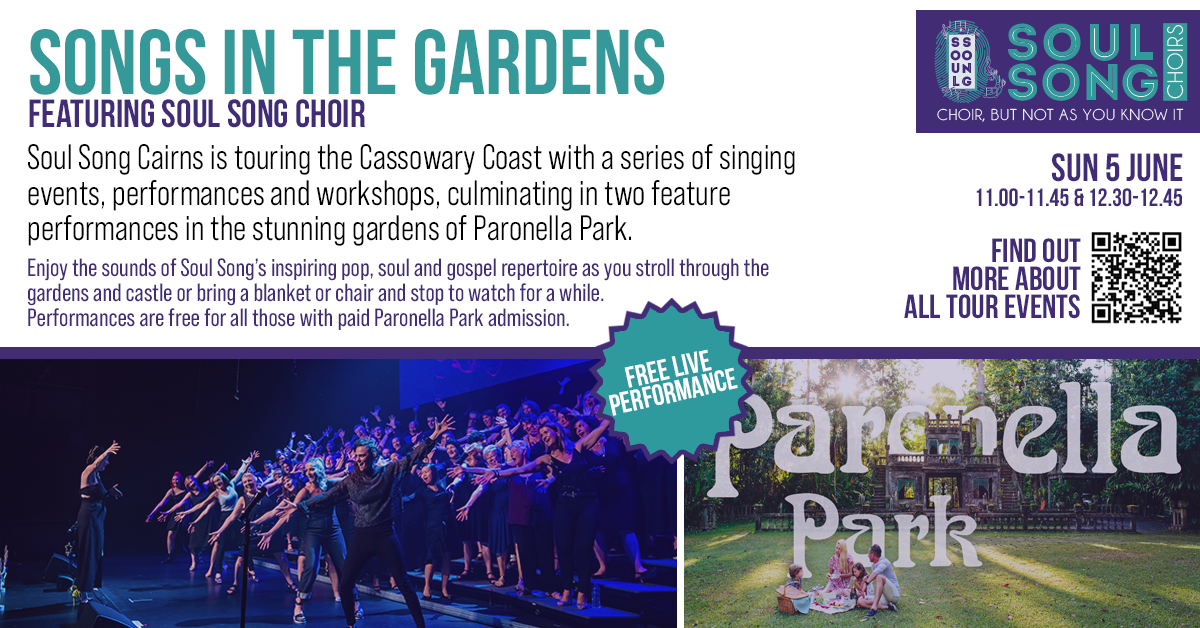 ---
QUERIES
Let us know if you've got any questions or queries with tickets etc. Contact Jacqueline on jacqueline@soulsongchoirs.com.au or 0412 255587